Championne de France, Internationale, Luxembourg, Trialer
Ixia du Marais de la Sangsurière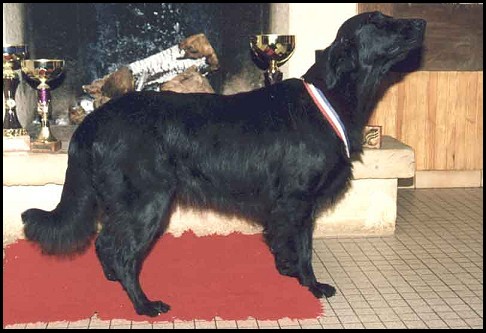 1993 - 2004
"Best in show" à la Nationale d'élevage en 98 !
La femelle Flat la plus titrée en France

Larsen of Glen Sheallag

Multi-CH Branchalwood Lochdubh

CH Shargleam Blackcap

SHCH.Palnure Pride of Branchalwood

Multi-CH Branchalwood Islay

CH Stantilaine Rory of Branchalwood

Branchalwood Frisa

Multi-CH & Trialer
Eureka du Val des Granges

Trialer - Brag de la Rougemare

Branchalwood Bhlorum of Lacetrom

Longforgan Plover

Colombia des Geguis

Belsud Black Swan

Manda v. Felsbach
PALMARES
Meilleure jeune à la Nationale d'élevage 94 et au Championnat de France 94
Multi CAC - CACIB - BOB, meilleure du VIII groupe (18 CACIB & 10 BOB )
Championnat de France 95 : RCAC
Championnat de France 96 : CACIB
Championnat de France 97 : CAC-CACIB
Nationale d'élevage 95 : CAC
Nationale d'élevage 98 : CAC - Meilleur de race - Best in Show !
3ème exc en Field-trials !
Best in Show au baby - vétéran show d'Moulins 2004
Ixia a tout fait pour nous, elle était une grande dame, mais surtout notre amie fidèle... nous ne l'oublierons pas.